Motorola Moto 360 Smartwatch
Check out the latest Motorola Moto 360 Smartwatch Price in India with complete information about Motorola Moto 360 Smartwatch full specifications and online shopping options to know where you can buy it at the best price. Motorola Moto 360 Smartwatch is currently available in multicolor compatible with Motorola Moto 360 Smartwatch. See what's in the box, watch Motorola Moto 360 Smartwatchunboxing and review videos online.
Motorola Moto 360 Smartwatch Price in India
Redefine the timekeeping affair with the Motorola Moto 360 smartwatch that is powered by Android Wear. Thanks to the inbuilt pedometer and heart-rate monitor, you can easily keep a tab on the number of steps you've taken and your heart's health. You won't miss what's happening around you as you will receive notifications from apps such as Facebook Messenger, Pinterest, Lyft and much more right on your wrist.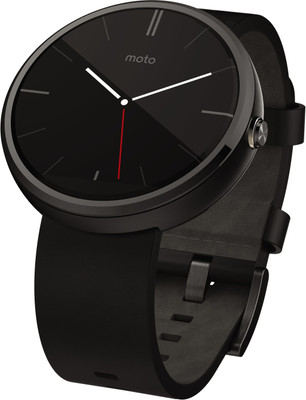 Last update was on: February 27, 2021 4:22 am
Moto360 WearOS Smartwatch: Initial Start-Up
What is going on everyone? Leon checkin' in and we are here to talk more about the Moto360. In our previous video, we unboxed the Moto360 in all its Phantom ...
This Is The New and Improved Moto 360
Motorola's iconic Moto 360 smartwatch has been reinvented by a company called eBuyNow. They purchased a five-year licensing deal to produce Moto 360 ...
Moto 360 Review!
Moto 360: Smartwatch of the year, but we're just getting started. Android Wear Review: http://youtu.be/2z9uOm-Ydrk Apple Watch face: ...
Moto360 2020 Edition Smart Watch Review
In this video we take a look at the brand new Moto360 smartwatch, brought back to life by tech company eBuyNow. But has it got what it takes to keep up with the ...
Moto 360 Smartwatch (Android Wear) Unboxing & Setup
Motorola Moto 360 Smartwatch Unboxing & Pairing with Android Smartwatch the Moto 360 is the first circular smart watch running on Android Wear and I do the ...
Motorola Moto 360 Review: The Best Smartwatch So Far
Here is a full review of the Moto 360 made by Motorola! I talk about the hardware, battery life, design, software, and specs. Let me know what you think! Black vs.
Specification:
Motorola Moto 360 Smartwatch
| | |
| --- | --- |
| Sales Package | Smartwatch, Charger, User Manual |
| Model Number | Moto360 |
| Size | Regular |
| Touchscreen | Yes |
| Usage | Notifier |
| Water Resistant | Yes |
| Ideal For | Men & Women |
| Sensor | Pedometer, Optical Heart Rate Monitor (PPG) |
| Notification Type | Vibration |
| Compatible Device | Android Smartphones |
| Battery Life | Upto 24 hours (Based on Usage) |
| Rechargeable Battery | Yes |
| Other Features | Battery Capacity: 320 mAh, Single Physical Button |
| Model Name | Moto 360 |
| Dial Shape | Circle |
| Strap Color | Grey |
| Strap Material | Leather |
| Compatible Operating System | Android 4.3 |
| RAM | 512 MB |
| Microphone | Yes |
| Display Size | 40 mm |
| Other Display Features | Backlit LCD, Corning Gorilla Glass 3, Water Resistance: IP67 Certified, 205 PPI |
| Heart Rate Monitor | Yes |
| Internal Memory | 4 GB |
| Calendar | Yes |
| Alarm Clock | Yes |
| Number of Buttons | 1 |
| Date & Time Display | Yes |
| Thickness | 11 mm |
| Diameter | 46 mm |
| Weight | 49 g |
| Call Function | No |
| Bluetooth | Yes |
| Bluetooth Version | v4.0 |
| Display Resolution | 320 x 290 Pixels |
| Warranty Summary | 1 Year |
Motorola Moto 360 Smartwatch